M.B. McGrady is your local accountancy expert offering friendly down-to-earth advice and support.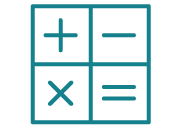 We are Chartered Tax Advisors who specialise in all aspects of taxation and focus on maximising the return from your business by saving you tax.
Our team of highly qualified professionals take time to get to know you, understand your business and deliver a package of services that meet your specific needs. In particular, we can provide:
Preparation of Statutory Accounts
Personal Income Tax returns
Limited Company set up
Preparation of Management Accounts
Sage Accounts and Sage Reseller
Company Valuations
Bookkeeping services
Company secretarial services
We work with all types of businesses whether large or small from all sectors of industry, including public sector organisations and charities.
Systems Implementation and Review
We have extensive experience in the review and implementation of Financial Control Systems. This can range from setting up a manual book-keeping system for a new start business to advising on computer based financial packages for larger businesses. We can also undertake a review of your internal control systems to make sure that you meet your statutory legislation and audit obligations.
We also provide in-house training to facilitate the hand over of these functions when suitable.
Contact us to arrange a consultation for your accountancy needs. Contact Us