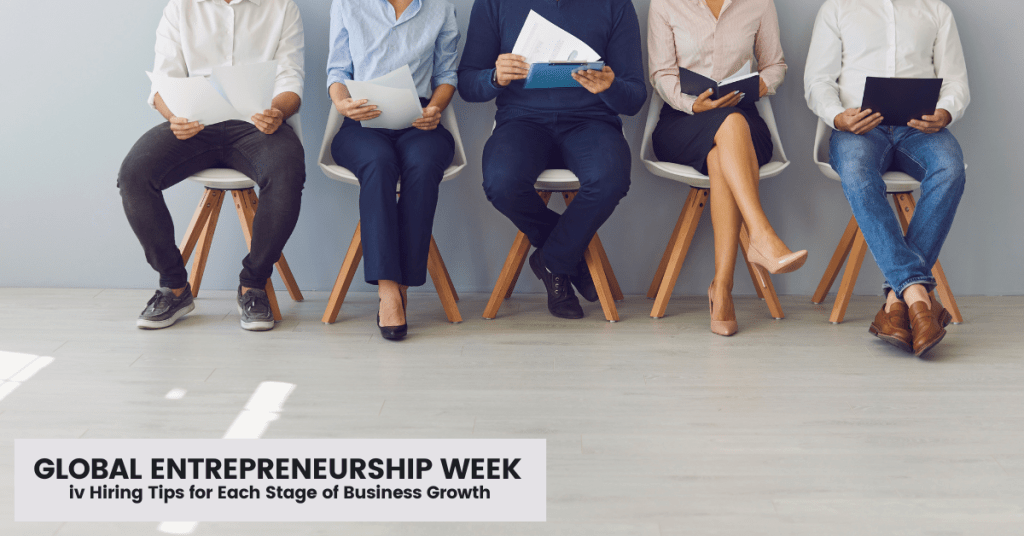 Making the decision to hire a team of staff is a huge milestone for any entrepreneur as it can often indicate that your business is expanding.
The prospect of hiring a team of staff is daunting but it's important to get it right as hiring the wrong person can be at best a waste of valuable time and money and at worst, can have a negative impact on your business.
In today's blog as part of Global Entrepreneurship Week, we're discussing the various stages of business growth and sharing our top tips for recruiting during each stage.
Stage one: Start-Up
As the name suggests, a start-up is the very first phase of establishing a business. At this stage, an entrepreneur's main priority will be to explore whether their idea or service is feasible and whether there's market for it.
Hiring in the Start-Up Phase
Avoid making hasty or ill-informed hiring decisions
Clearly decide what your business' needs are and the type of person you would like to fulfil them
Make sure you conduct formal interviews and have a good understanding of labour laws and salary standards
Keep in mind that finding the right people for your business can be challenging but making the right call at this stage can be crucial to your business reaching the next stage of growth.
Stage two: Growth
Once it becomes clear that there's a market for your company's services, true business growth begins in stage two, and it can be rapid at this point. Alongside recruiting, a company's main focus at this stage should be on maintaining capital, effectively forecasting to mitigate sudden changes and setting realistic goals to ensure effective use of resources.
Hiring in the Growth Phase
Consider adding some more experienced individuals to your team who can deal with customers, seek out opportunities and help to drive sales and marketing
Set more structured policies in place, for example, an employee handbook and think about how you'd like your company culture to look
Stage three: Maturity
Once you've reached the maturity stage, your business will be stable and will have established a strong market presence with a loyal customer base. Despite the security that this phase brings, there is a different kind of risk that will be present here – stagnation, which could be detrimental in a society that is evolving at a rapid pace. At this point, it would be worth considering developing new products or seeking to expand into new markets in order to remain competitive.
Hiring in the Maturity Phase:
Recruiting a management team at this phase will be very helpful when it comes to expanding into new markets and to bringing fresh ideas to the company
You may need to implement a stringent recruitment process at this stage, or even a recruitment company that can connect you with the best hires quickly and easily
Stage Four: Renewal
After a period of maturity, nearly every business will reach a stage where it has to revaluate its future. At this point, a business owner will have two options; reinvest in the company or to sell. If you're planning to reinvest, you will likely have to re-brand in order to remain relevant in a developed marketplace. You may find yourself back at the Start-Up phase at this stage, however with even larger financial stakes. It's vital that your recruitment reflects the change in stakes.
Hiring in the Renewal Phase
Attract experienced people with the drive, ambition and expertise to reinvent your business
Reform your company's culture and make sure new technologies have been adopted throughout the business
Remember to recruit people with strong interpersonal skills – they will be key to communicating your renewed vision to customers and stakeholders
If you require business advice, contact our team today or visit our website: www.mbmcgrady.co.uk.