Exit Strategies for Entrepreneurs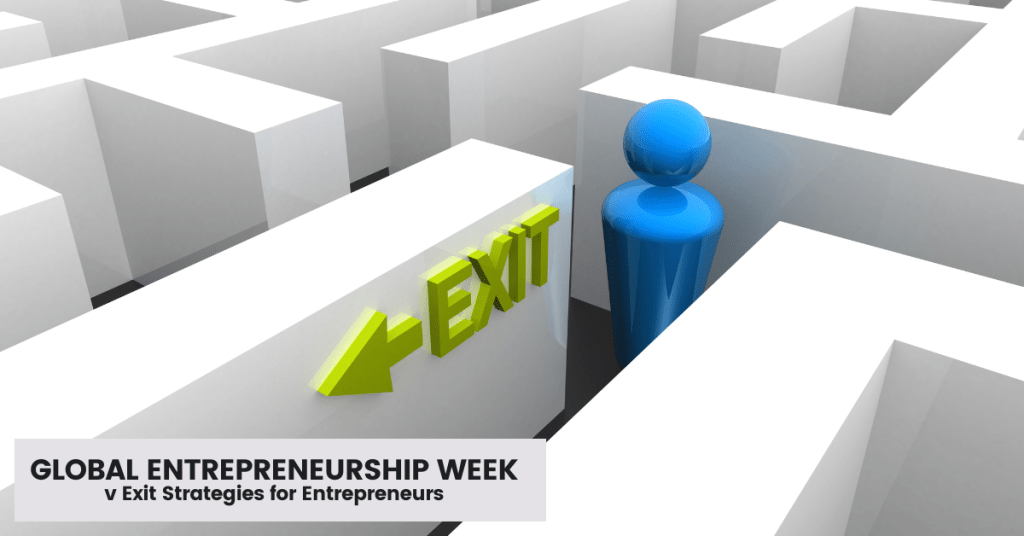 An exit strategy is a plan that some business owners may utilise to help remove themselves from a company in order to limit losses or to capitalise on gains.
While the idea may have some negative connotations, if you're an entrepreneur it's important to think about what your exit strategy might be so that you can gain the most from your financial and business assets.
As part of #GlobalEntrepreneurshipWeek, we're sharing some of the most common business strategies alongside the pros and cons of each.
A Merger and Acquisition Deal
If you're planning to sell your business, a merger or acquisition deal is a very attractive option. Through this method, you'll be selling your business to another company who may want to increase their presence in a particular market, acquire your talent or eliminate competition.
Advantages:
This method is particularly beneficial because you can control price negotiations and essentially, set your own terms
Disadvantages:
Merger and acquisition deals can be time-consuming, costly and can have a tendency to fall through
Pass the Business to a Family Member
If you'd like to pass your business to a child or other family member, this exit strategy is very appealing, however it's important to find the right person for the job.
Advantages:
You'll be able to remain close to the business and monitor its goings on
Your family member will likely have an intimate knowledge of the business and how it's operated
You will be able to thoroughly prepare your family member for taking over the leadership role
Disadvantages:
You may not have anyone in the family who is willing or capable of taking on your business
The process may add financial and emotional stress on family relationships
Sell Your Stake to a Partner / Investor
If you are not the sole business owner, selling your stake to a partner or investor that you trust, is a solid exit strategy which means the company can continue to operate as normal.
Advantages:
The company will continue to run and generate revenue with limited disruption
If you choose this exit strategy, it's likely that your partner / investor will have an interest in the business and will work to ensure its success in the future
Disadvantages:
Finding the right investor can be challenging
If you have a close relationship with the investor, the sale may not be as financially lucrative as it could be
Sell to Your Employees
Selling the business to your employees means that those already working within the company will be able to step up into leadership roles and drive it forward in the future.
Advantages:
You can rest assured that your business will be run by someone who likely knows it inside out
The sales process is likely to be more straightforward
Disadvantages:
Your employees may not be interested in taking over the business
Sudden changes in management may have a negative impact on workflow and profitability
Liquidation
Liquidation may be a good exit option for a business that is failing. It is quite final however, as all assets will be sold, and the business will be completely shut down.
Advantages:
This method is simple and quick
If you're seeking to put a firm end to your business, liquidation will achieve this
Disadvantages:
It's unlikely to be a high-value exit strategy
You could be severing ties with your employees, partners and clients
When planning your exit strategy, it's important to choose the right method for your and your business. If you need advice, or assistance, speak to a member of our team who will be happy to help.