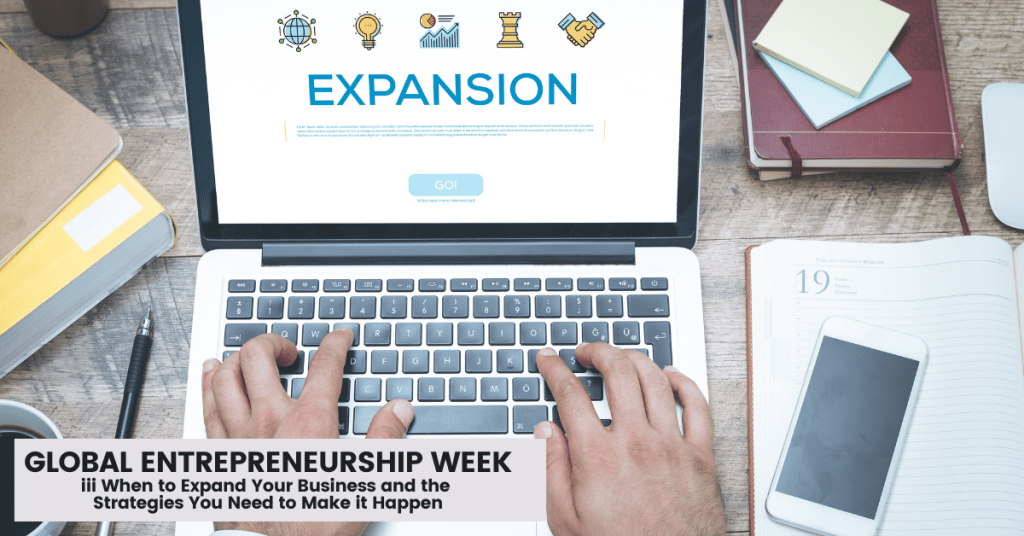 Canadian astronaut and engineer, Chris Hadfield once said: "Almost everything worthwhile carries with it some sort of risk," which is certainly true when it comes to business and planning for expansion.
Knowing how and when to expand your business can be tricky but if you don't take the leap, you run the risk of being left behind as the market evolves and develops.
As part of #GlobalEntrepreneurshipWeek, we're giving our best advice to business owners and entrepreneurs on a range of topics and in this blog, we'll discuss how to know when to expand your business and the strategies you need to make it happen.
Indicators that it might be time for expansion:
If you're considering expanding your business, take into account the following points. If several ring true for your business, it might be time to branch out:
Your marketplace is evolving
You have more business than you can manage
You see a need or requirement for particular products / services
You have developed a loyal customer base
Your customers are asking you to expand
Your business has been profitable for a few years
You have steady cash flow
You have a strong team that can support you
Strategies for business expansion:
Once you've completed thorough research and decided that expansion is the right path for you, your staff and your business, the following strategies may help you to reach new heights.
1) Increase your product offering
Adding new and exciting products, that are related to your current offering, is a great way to expand your business. Adding additional products could open up a new customer base, meaning that you'll tap into a unique growth opportunity.
For example, if you own a coffee shop, you could increase your profits by starting to offer tray bakes, bagels or sandwiches. In the evenings, you could also rent out your space to other local initiatives – this might be a book club or a speed dating event.
2) Create a customer loyalty programme
Selling products to the customers you already have is much easier than trying to attract new customers – this is where a customer loyalty programme could be very advantageous in your expansion.
Building a customer loyalty programme will help to retain your existing customers and if there's a clear incentive to spend money with your business, you may end up with new customers as well – it's a win-win!
3) Form business partnerships
Business partnerships are an effective way of gaining exposure to a whole new group of customers – you just need to find the right partner first, which can be challenging. Our advice would be to search for other businesses that are similar, reach out to them and propose working alongside one another.
4) Consider international expansion
Could you take your existing offering and expand it on a global scale? How would you go about expanding into the United States, Europe or Australia? Expanding your business on an international scale is a costly option, but your potential profits could be huge. Be meticulous in your research and go global.
5) Consider a franchise model
This method won't be applicable to every business, but if you own a gym or fast-food restaurant, franchising is a popular growth strategy. If you decide to franchise your business, it will increase the number of locations that your business is based, therefore bringing in increased revenue. This method of growth isn't straightforward however, if you do your research and make sure your business lends itself to franchising, it can be extremely profitable.
6) Network, network, network
Brand visibility is extremely important when trying to expand your business as it can attract new customers. Check out local professional events and commit to attending a few to share the word about your business.
It goes without saying but marketing it also another very important way of getting the word out about your business. If you already have a business, you'll likely be donating time towards marketing anyway, but if you're expanding, it's worth stepping your marketing up a gear as well.
If you need assistance in expanding your business, our expert team will be happy to help and answer any queries you may have.
Contact us today and let's get the ball rolling on your business expansion.